About Us
How many "Team Bonding" weekends have you or your team been on, that amounted to little more than a partying session?
Of course the social element is important too (particularly pre-season), but the opportunity should never be missed to get the most out of your weekends. Break For Ball brings a level of professionalism and a range of services that adds great value to your trip.
Having a team spirit and a sense of togetherness is a prerequisite for achieving success at ANY level. Break For Ball, through careful planning, will guarantee
that your team develops, growing closer together in the process.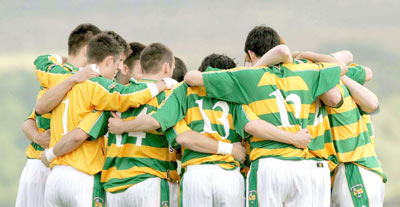 Who do we cater for?
Break For Ball caters for all GAA Teams in Football, Hurling and Camogie including:
Club Teams  
County teams
Universities
Schools
Seniors, Intermediate, Junior
Underage
Mens
Ladies
Boys and Girls
Teams form all over Ireland, England, Europe, USA and further a field.
What do we do?
Organise your accommodation and meals
Hire out GAA pitch facilities on your behalf
Organise a challenge game for your team
Set you up with a Coaching session and Motivational Talk with a high profile player or coach.
Organise a Team Building activity for the group
Offer a range of other specialised services such as:
Video Analysis, Massage Therapy, Nutritional advice,
Sports Psychology, Media training, Strength & conditioning,
free-taking & Goal-keeping coaching.
Plan your weekend – no matter how big or how small - from start to finish.
What time of the year should you go away?
It all depends on the needs of your team:
Pre-season to kick-start the New Year ahead.
Just before championship to focus the mind and gain momentum.
End of season - to finish the year on a high, building towards the next.