Team Building Activites
Developing a strong TEAM is the key to your success. Our Teambuilding Activities will help break down any cliques that may exist and motivate teams to work more constructively together.
Paintballing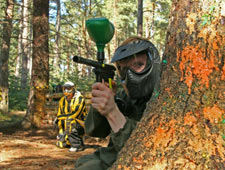 Paintball is a "sport" in which participants eliminate opponents from play by hitting them with paintballs. A game of paintball usually involves two opposing teams seeking to eliminate all of the other team's players or to complete an objective, such as retrieving a flag. As well as being a fun pastime, Paintball is a character-building sport. Players learn about teamwork, gain self-confidence and develop leadership abilities while having fun and getting welcome stress-relief.
Coasteering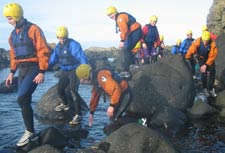 Perhaps the most exhilerating of all the Team Building activites, it involves exploring a piece of coastline – a rocky headland or a short stretch of cliffs - making a journey from one bay to the next. The session will involve having to scramble, climb, swim, and maddest of all, cliff jump to complete a good Coasteering route. It's invariably an adrenalin-fuelled experience. Don't worry if some of your team cannot swim as the wet suit and buoyancy aid will keep you afloat when you are in the water. This activity is great 'craic' but also involves players working together as a team, and overcoming fears as a group.
Team Building Games
Sometimes the most effective form of Team Building can be the simplest. Have one of our trained professionals deliver a programme of fun and practical games, that will foster an improvement in skills and relationships within your team, when it comes to: Trust, Communication, Leadership, and Team-Work.
Kayaking, Canoeing & Abseiling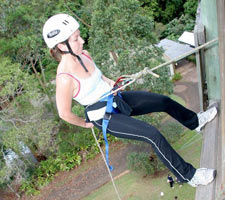 Enhance the camaraderie of your team by taking part in challenging outdoor activities surrounded by water. Kayaking, Canoeing or Abseiling are great ways to develop teamwork and communication amongst your players, by encouraging them to work together as well as create healthy competition through races, obstacle courses and fun games.
Go- Karting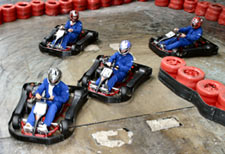 Karting can be the ideal team building exercise. Separating into teams, players can compete in high-speed races around a variety of Go-Karting tracks. These Grand-Prix events are goal-driven and are great for encouraging teamwork.
Dragon Boating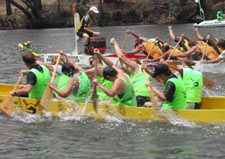 Dragon Boating is one of the fastest growing water sports. Teams of 10 - 20 paddlers, along with a steersperson and a drummer race in 40-foot dragon boats across 500 meter courses. These are sprint races that require as much mental as physical stamina.