Coaches
Below is a list of the high profile coaches who deliver sessions for teams.
 
 
Avail of this service and your team will receive a carefully planned 1 hour coaching session
followed by a 30 minute motivational talk. Identify key areas in advance, and "Break For Ball" will ensure that your High Profile Coach address these in his/her coaching session.

Football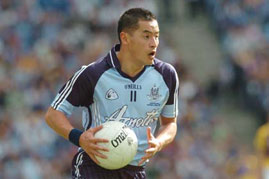 Jason Sherlock
The one time poster boy of Dublin GAA the Na Fianna club man had a distinguished Inter-Counter career that lasted an incredible sixteen seasons. 'Jayo' made his debut for Dublin in 1995 making quite an impression as they went on to win the All-Ireland that year. Seven Leisnter Championships later, he finally hung up his boots in 2010. Jason is currently a member of the Dublin Senior Football backroom team.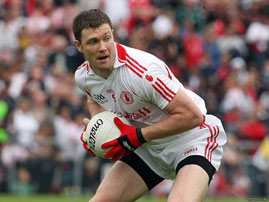 Enda McGinley
A three time All-Ireland winner with the Red Hands in 2003, 2005, and 2008, the Errigal Ciaran club man was one of a golden generation of Tyrone footballers. Small for a mid-fielder, he made up for his lack of height with a tremendous engine and work ethic that saw him play the complete game of attacking and defending. He was remwarded for his exceptional performances in 2008 with an All-Star. A highly respected physiotherapist, Enda had proved a big hit delivering his motivational talks to GAA teams.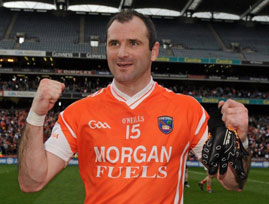 Steven McDonnell
An All-Ireland winner with Armagh in 2002, the Killeavy man underpinned his credentials by kicking the winning point in the final against Kerry. The all-time top goal-scorer of the Ulster Championship, 'Stevie from Killeavy' won a total of six Ulster Championships and three All-Star awards in a career than spanned fourteen seasons. He also captained his country in 2011 and became the first ever player in the history of the International rules to score over 100 points. Steven is the current manager of the Armagh Under 21 team.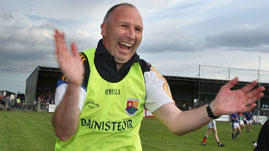 Glenn Ryan
Glenn Ryan captained the Kildare team in one of its most successful periods, leading the Lilywhites to the All-Ireland final in 1998, collecting Leinster medals that year and again in 2000. His contribution was recognised with GAA All Star Awards in 1997 and 1998 and a place on the Kildare Team of the Millennium. Playing his club football with Round Towers, he won the county title with them three times. He starting out his management career taking the Kildare Under 21 team to a Leinster Title in 2008 before narrowly losing out to Kerry in the All-Ireland Final. In 2009 he took over the Longford senior football team, and in his time in charge he has gained two National league promotions as well as some large scalps in the championship including Mayo, Derry and Laois.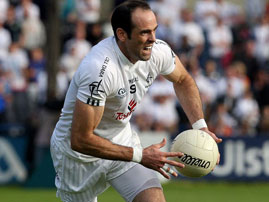 Dermot Early
Dermot Earley has been a regular player for Kildare at midfield for almost 15 years. His outstanding performances have won him GAA All Stars Awards in 1998 and 2009. He reached the All-Ireland final with Kildare in 1998 winning a Leinster medal that year and again in 2000. He plays his club football with Sarsfields in Newbridge where he has won 5 Kildare Senior Football Championships in 1993, 1994, 1999, 2001, and 2005. Now in the twilight of his career, the Lillywhite's legend has a keen interest in coaching and motivational speaking.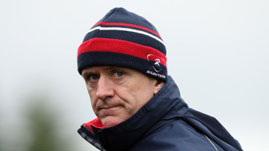 John Maughan
John has been in the Inter-County management game since 1991 when he took over the minnows from Clare, who hadn't won a provincial championship in 75 years. Just one year later in 1992, John steered them to a famous victory over Kerry in the final, which went down as maybe the biggest breakthroughs in over 20 years. After taking over a floundering Mayo in 1996, in two separate stints he took the westerners to win four Connaught titles and compete in three All-Ireland Finals. Before Maughan, a Connaught side hadn't beaten a Munster team in the championship for 30 years, or a Leinster team in 24 years. Then Mayo beat Kerry and Offaly in successive All-Ireland Semi-Finals.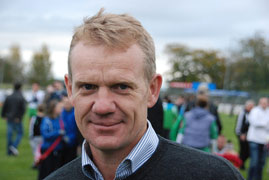 Kevin O'Brien
Kevin O'Brien is highly regarded as one of Wicklow's best players of all time. He was part of the great Baltinglass team that dominated Wicklow football winning an All-Ireland Senior Club Football Championship Title in 1990. He is also the only Wicklow recipient of an All Star having won one in 1990 at Full Forward. He won a Railway Cup medal with Leinster in 1986, before he had even played for his county, and added a second in 1990. He also represented the Irish International Rules team in 1990 in the success over Australia and again in the 1998 Series. He was inducted in the GAA's Hall of Fame in 2010 and is one of the youngest recipients of the accolade. Since retiring, Kevin has taken up many prestigious coaching roles, not least with the Ireland International Rules Team in 2011.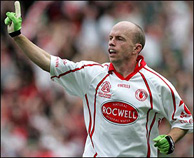 Peter Canavan
One of the greatest Gaelic Footballers of all time, he was named in a list of the 125 most influential people in GAA history. A medal haul that beggars belief, it includes two All-Irelands at Senior Level, four Ulster Titles, two National Leagues and six All-Stars. A born leader, Peter captained Tyrone to win All-Ireland Under-21 Titles in 1991 and 1992 before finally fulfilling his life long ambition of being the first ever Tyrone man to climb the steps of the Hogan Stand to lift the Sam Maguire in 2003. He became the first GAA star to gain an honorary doctorate from the University of Ulster, and was also voted BBC Northern Ireland Sports Personality of the Year in 2003. But it wasn't just at Inter-County level where Peter succeeded, as with his club Errigal Ciaran, he won six County Senior Championships and two Ulster Club Titles. After a long and decorated career he went into mangement steering his club Errigal Ciaran to league titles in 2009 and 2010. In 2011 Peter took the plunge into Inter-County Management as he became the manager of Fermanagh. Peter's coaching sessions are particularly good for teams wanting to develop forward play, movement and finishing power.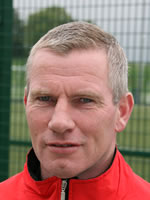 Tony Scullion
The four time All-Star and dual player from Ballinascreen was a late developer to Gaelic Games, failing to make the Derry minor team of 1980. In 1983 he won an Ulster Under 21 title before going on represent his county at Senior Level winning three National Leagues, two Ulster Championships and in 1993 he was part of the first Derry team to win an All-Ireland. At a time when the competition was truly valued, Tony also won an increbible six Railway Cup medals with Ulster. At mangement level, he has had successful stints with Tyrone teams Eglish and Kildress before taking over his native Ballinascreen in 2011. A tremendous motivator, Tony's sessions are particularly useful for teams wanting to improve tackling technique and develop their defensive strategy.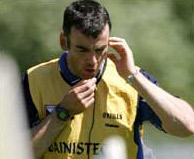 Martin McElkennon
Widely recognized as one of the top, most innovative coaches in the modern game, Martin has been involved with numerous county teams in Ulster, including successful stints with Derry (NFL Title 2001), Fermanagh and then as manager of Cavan. In his early days, Marty coached Tyrone Minors to Ulster and All Ireland Titles (1997), before managing Errigal Ciaran to an Ulster Final and their first ever league & championship double in the same year. In 2007 he joined forces with Seamus McEneaney in Monaghan, pulling them out of the doldrums and within a whisker of beating the mighty Kerry in an All-Ireland Quarter Final. After a four year stint with the Farney, Martin departed with Banty to take over Meath in 2011.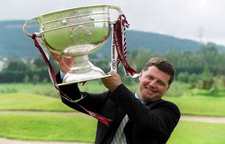 John O'Mahoney
A double All-Ireland winning manager with Galway in 1998 and 2001, not many come with more craft, guile and experience, than 'Johnno'. In the Inter-County management game now, for over 25 years, he first managed Mayo to win an All-Ireland U-21 title in 1983, before going on to manage Leitrim and his native Mayo to Connaught Titles in the early 1990's. A true legend of the managerial game, John returned to manage Mayo in 2007 which he balanced with his work as a TD for the Mayo constituency. In 2009 he was named in the Sunday Tribune's list of the 125 Most Influential People In GAA History.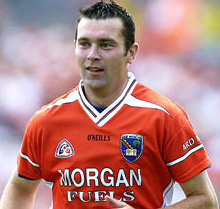 Oisin McConville
Two All-star awards, one All-Ireland title and seven Ulster Championships only begin to tell the tale. Oisin also holds the mantle of being the Top-Scorer of all time in the Ulster Championship tallying up an incredible 230 points. One of the true greats of the modern game, no-one can speak more confidently about "achieving succes at Club level" than he; having won five All-Ireland Club Titles and an unbelievable thirteen county championships in a row, with his native Crossmaglen. Somehow, between all of this, he found the time to write a book ("The Gambler") and has appeared on "celebrity jigs and reels". Oisin is the current manager of the Crossmaglen Senior team.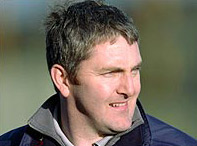 Damian Cassidy
The former manager of the Derry Senior Football Team has built up a very impressive CV in his short time in Management. Assisant to the Late Eamonn Colman at the start of the decade, winning a NFL and reaching an All-Ireland Semi-Final, he more recently managed teams in both Derry (Bellaghy) and Tyrone (Clonoe) to win County Senior championships. In an illustrious playing career, Damian captured All-Ireland Titles for Derry at both Minor and senior level along with numerous National leagues, Ulster Championships and five county titles with his native Bellaghy.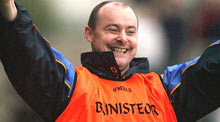 Malachy O'Rourke
The Fermanagh man has the midas touch, particularly in his first year in management. Senior Championships in three different Ulster Counties, with Errigal Ciaran (Tyrone), Cavan Gaels (Cavan) and the Loup, who he remarkably took to win an Ulster Championship in 2003, after claiming their first Derry Senior Championship ever. O'Rourke went on to manage his native Fermanagh, and in his first year, took them to their first Ulster Final in 25 years, narrowly losing out to Armagh after a replay. Since then Malachy has went to manage Monaghan to two Ulster finals, winning the 'Farney' their first title for 25 years in 2013.
Liam McHale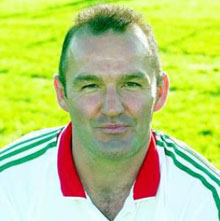 The Ballina Stephenites player was the towering presence in the Mayo mid-field during the nineties. Hugely successful with both club and county, 1996 was a year of mixed emotions for the big Mayo man. Another Connaught title was superseded by an All-Ireland Final appearance which saw the dominant McHale and his Mayo team squander a six point lead to allow Meath to force a replay. After a goal mouth scramble five minutes into the replay, a brawl ensued which saw big McHale sent to the line. The All-Ireland medal didn't come, but arguably the outstanding mid-fielder from that year, Liam was chosen on the All-Star team. Liam is the coach to the Clare Senior Football Team.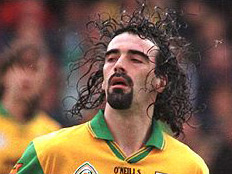 Jimmy McGuinness
Few could disagree that Jimmy has been one of Donegal's finest footballers in the last twenty years. But his for all his exploits as a player, they have been well and truly eclipsed by what he has done as a manager. In 2012, after leading Donegal to their second Ulster title in two years, they went on to win their first All-Ireland in exactly 20 years. Now a first team performance coach with Glasgow Celtic, we may have waved bye bye to the flowing locks, but I doubt we have seen the last of the Glenties maestro on the sidelines.
Hurling/Camogie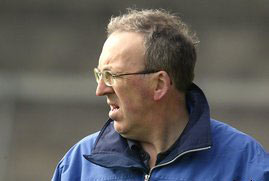 Paudie Butler
The Tipperary native, has over 30 years coaching experience at county, club and schools levels. At inter-county level, he coached the Tipperary minors to three Munster Championships and was also involved with the Tipperary Under-21 team. Most recently, he enjoyed a successful spell as manager of the Laois senior hurlers and was manager of the Ireland U-21 Hurling/Shinty team. In 2006, he was confirmed for the role in Croke Park as the Nartional Director of Hurling.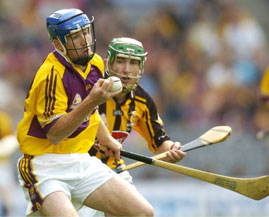 Diarmuid Lyng
Diarmuid 'Gizzy' Lyng has represented Wexford at all levels playing on their last U21 Leinster Championship winning side, in 2001. He made his Senior debut marking Sean Og O hAilpin against Cork in 2004, after capturing the Leinster title in the same year, by beating Kilkenny in the semi final and Offaly in the final. Diarmuid won a Fitzgibbon Cup in 2001 with U.C.D. and captained Wexford to National league Division 2 success in 2010. Recipient of hurler of the year on three occasions in Wexford, he has been selected to represent Leinster every year since 2005, as well as representing Ireland in the Shinty International in 2009. With a keen interest in coaching; autonomy and creativity are the two things that 'Gizzy'looks for most in players. Expand the comfort zone and enjoy being in a place to reach your full potential are his mottos.
David Kennedy
David joined the Tipperary Senior Hurling panel in 1998, winning 2 National Hurling League medals before landing the coveted All-Ireland Senior Hurling medal in 2001 playing at centre-back. He was also on the Munster team that played in the 1999 Railway Cup. David played minor hurling with Tipp in 1993 and 1994. He won a Munster medal in 1993 and won an All-Ireland Under-21 medal in 1995. He also played both minor and Under-21 football for Tipp.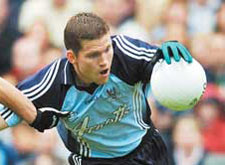 Conal Keaney
Best known as a talented Dublin footballer, Conal was a big star in the game of hurling first, receiving a hurling All-Star nomination for his performances in the 2003 championship. In 2005, he decided to concentrate solely on the football, and it is no coincidence that his team have now won the last four Leinster titles on the trot. He was picked for the International Rules team in 2005, but had to opt out because of injury. The big 'Dub' possibly had his best year in 2006 when he nominated for an All-Star for his fine performances in the Half Forward Line, before going on to win the Railway Cup with Leinster.
Emmet McKeever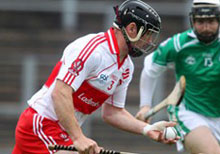 A dual star for Derry, Emmet has represented his county with distinction in both codes. In 1997 he played on the Dungiven Senior Football Team that won the Derry and Ulster Club football championships. A more distinguished hurler, Mckeever played on the Derry Senior hurling team that won Ulster Championships in 2000 and 2001. A remarkable eight county hurling championship medals with Kevin Lynches, Emmet continues to play both football and hurling for his club.
George O'Connor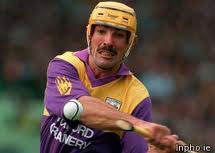 When one thinks of Wexford Hurling, the legendary George O'Connor automatically springs to mind. A decorated career that remarkably spanned across the three decades of the 70's, 80's and 90's, George first came to prominence on the inter-county scene when he made his senior debut in 1979. Two years later in 1981 he was one of the stars of the Wexford team, and his performances were rewarded with his first All-Star award. Over the next decade or so Wexford would appear in five Leinster hurling finals, however, the team would be defeated on every occasion. Contemplating retirement around 1994, new manager Liam Griffin persuaded him to stay on. The following year saw Wexford endure defeat again, however, 1996 was to be their year, and one that would see O'Connor leave the game on the ultimate high. One of the iconic images of that All-Ireland final was of George, the oldest man on the field, being shouldered off in victory. After seventeen seasons in the Wexford jersey he decided to finally retire from inter-county hurling. In 2006 George was appointed to the position of Director of Hurling in Wexford.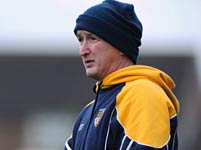 Dominic McKinley and Terence McNaughton
Former joint manager of the Antrim Senior Hurling Team, and manager of the Ulster Railway Cup Hurling Team, Dominic has previously managed the Derry Hurling and camogie teams. He played for Antrim in the 1989 All Ireland Final senior hurling Final and received a replacement All-Star award in the same year. Throughout his career 'Woody' has won numerous Ulster Championships with Antrim, but perhaps his proudest moment came in 1983 when he won a Senior All Ireland Cub Title with his club, Loughgiel Shamrocks.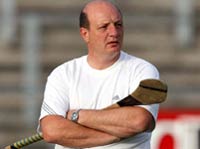 The name 'Sambo' is synonomus with hurling in Antrim and further afield. After a successful stint at minor level himself and 'Woody' took up the reigns of the Antrim Senior Hurling Team. Two Ulster titles in two years and victory in the Walsh Cup Final over the mighty Kilkenny last year, have demonstrated that good progress is being made. Sambo also played for Antrim in the All-Ireland Hurling Final of 1989, and went on to win himself an All-Star award in 1991. Six Ulster titles with Antrim, and an incredible eight County Titles and seven Ulster Championships with his native Ruairi Og's of Cushendall, make him one of the most decorated Ulster hurlers of all time.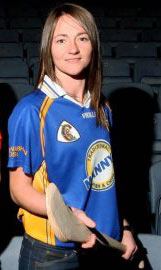 Jane Adams
Undoubtedly one of the biggest stars in Camogie for the last decade or so, Jane made history twice in 2008, by becoming the first Antrim player ever to collect an ALL-Star award, before going on to captain her club team Rossa to an All-Ireland Senior Title. Her contribution was immense, scoring an incredible 2-11 in the Semi-Final, before tallying up another 2-9 in the final.
In her career to date Jane has won four Ulster Championships and one All-Ireland Title with Rossa; seven Ulster titles, two intermediate and one Junior All-Ireland with Antrim; and has been awarded Ulster Camogie POTY on three occasions. Many believe that she is the best player in the country at the moment – and it is not hard to see why. .
Other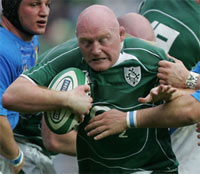 Bernard Jackman
Just retired as a Professional Rugby player after 12 years due to injury. Over his illustrious career Bernard has played with Connacht, Sale Sharks and Leinster and was an integral part of Magners League, European Challenge Cup and Heineken Cup winning teams. Fortunate enough to play for Ireland on nine occasions, Bernard was part of the Irish squad that won the Grand Slam in 2009. He has always been interested in what makes a successful team or what qualities winners have. Through his own study into the practices of the best athletes in their fields, such as Michael Jordan, Michael Schumacher, Ali, Padraig Harrington, Lance Armstrong and along with working with Paul O Connell, Brian O Driscoll. He has a very good knowledge of what is required to achieve at the highest level. Bernard has worked with various Rugby, Hurling and Gaelic football teams at both elite and non-elite level. In 2010 he was involved with the Wexford Senior Football Team.